Thermal Interface Materials
A thermal interface material is any material that is inserted between two components in order to enhance the thermal coupling between them. A common use is heat dissipation, in which the TIM is inserted between a heat-producing device (e.g. an integrated circuit) and a heat-dissipating device (e.g. a heat sink). At each interface, a thermal boundary resistance exists to impede heat dissipation. In addition, the electronic performance and device lifetime can degrade dramatically under continuous overheating and large thermal stress at the interfaces. Therefore, for the last several decades, there have been intensive efforts in developing various TIMs with the aim of minimizing the thermal boundary resistance between layers and enhancing thermal management performance, as well as tackling application requirements such as low thermal stress between materials of different thermal expansion coefficients, low elastic modulus or viscosity, flexibility, and reusability:
Thermal Paste
Mostly used in the electronics industry, it provides a very thin bond line and therefore a very small thermal resistance. It has no mechanical strength (other than the surface tension of the paste and the resulting adhesive effect) and will need an external mechanical fixation mechanism. Because it does not cure, it is used only where the material can be contained or in thin application where the of the paste will allow it to stay in position during use.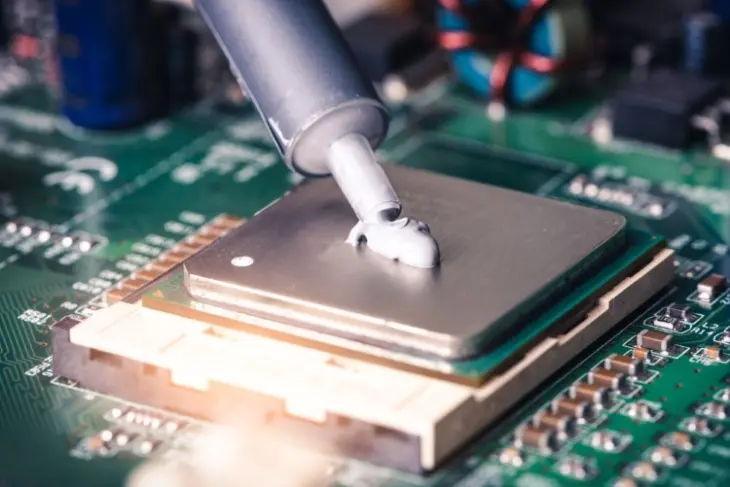 Thermal Grease
An innovative silicone-based thermal grease that delivers a thermal conductivity while exhibiting minimal bleed and evaporation characteristics. The unique non-flowing consistency makes the grease ideal for power converter and high-performance CPU applications that have bond lines as small as 1 mil.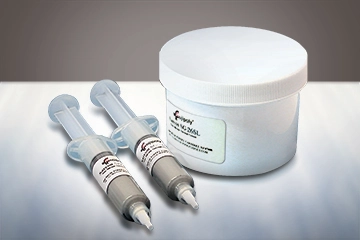 Thermal Gap Filler
This could be described as "curing thermal paste" or "non-adhesive thermal glue". It provides thicker bond lines than the thermal paste as it cures while still allowing an easy disassembly thanks to limited adhesiveness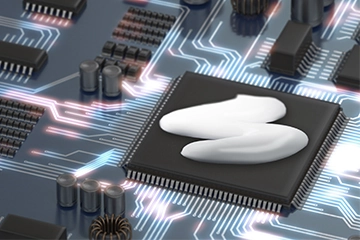 Thermal Tape
This adheres to the bonded surfaces, requires no curing time and is easy to apply. It is essentially a thermal pad with adhesive properties.