Elastomeric Connectors
• High Density, increased number of I/O's
• Low resistance, high current capacity
• Low insertion force, low compression force
• Redundant contact engagement
• High electrical and mechanical reliability
• Chemical stability, degradation resistance
• Cost-effectiveness, ease of assembly
ZEBRA Elastomeric Connectors are constructed of alternating parallel layers of electrically conductive and non-conductive silicone elastomer.ZEBRA provides a redundant connection with a minimum of two conductive layers recommended per PC contact pad. The connector is available with insulating barrier or silicone supports
---
CZ405/CZ705/2005
CZ410/CZ710/1002
CZ418/2004
CZ610/LT200
SZ100/5002
Metal Particles for Conductive Layers
Carbon
Carbon
Carbon
Carbon
Silver
Contact Area Pitch:
Contact Spacing Center-to-Center
Minimum
0.25mm
0.010in.
0.38mm
0.015in.
0.50mm
0.020in.
0.38mm
0.015in.
0.38mm
0.015in.
Pitch (Ti+Tc): Sum of the Thickness of an Adjacent
Conductive and Non-conductive Layer
Normal
0.050mm
0.002in.
0.10mm
0.004in.
0.18mm
0.007in.
0.10mm
0.004in.
0.10mm
0.004in.
Maximum
0.10mm
0.004in.
0.15mm
0.006in.
0.25mm
0.010in.
0.15mm
0.006in.
0.152mm
0.006in.
Conductive Layers
Minimum
160/10mm
500/in.
88/10mm
240/in.
45/10mm
140/in.
88/10mm
240/in.
66/10mm
240/in.
Individual Conductive and
Insulating Layer Thickness
Minimum
0.010mm
0.0004in.
0.025mm
0.001in.
0.050mm
0.002in.
0.025mm
0.001in.
0.025mm
0.001in.
Contact Area Pitch:
Contact Spacing Center-to-Center
Maximum
0.060mm
0.0024in.
0.10mm
0.004in.
0.15mm
0.006in.
0.10mm
0.004in.
0.075mm
0.003in.
Available Lengths
Maximum
230mm
9.0in.
230mm
9.0in.
230mm
9.0in.
127mm
5.0in.
127mm
5.0in.
Length (L)
4.0 to 61.0mm : ±0.20mm
0.157 to 2.40in. : ±0.008in.
6.35±0.12 to
127.0±0.64mm
61.2 to 152.4mm : ±0.38mm.
2.41 to 6.00in. : ±0.0.015in
152.6 to 200.0mm : ±0.50mm.
6.01 to 7.87in. : ±0.02in
0.25±0.005 to
5.0±0.025in.
200.1 to 230.0mm : ±1.00mm .
7.88 to 9.00in. : ±0.039in
Height (H)
0.5 to 19.0mm : ±0.127mm
0.02 to 0.75in. : ±0.005in.
1.0±0.08 to
12.7±0.18mm
above 19.0mm / 0.75in. Consult factory
0.04±0.003 to
0.5±0.07in.
Width (W)
0.38 to 1.0mm : ±0.05mm
.

0.015 to 0.039in. : ±0.002in.
0.5±0.08 t
2.54±0.13mm
0.02±0.003 to
0.1±0.005in.
1.01 to 2.0mm : ±0.076mm
0.040 to 0.079in. : ±0.003in
2.01 to 3.0mm : ±0.127mm
0.080 to 0.118in. : ±0.005in.
above 3.0mm / 0.118in. Consult factory
Temperature Range
-40 to +100°C
-40 to +212°F
-65 to +125°C
-85 to +260°F
-40 to +185°C
-45 to +80°F
Current Carrying Capacity
2
0.005A/0.04"x0.04" pad
2
0.3A/0.04"x0.04" pad
Resistance Between Layers
1012ohms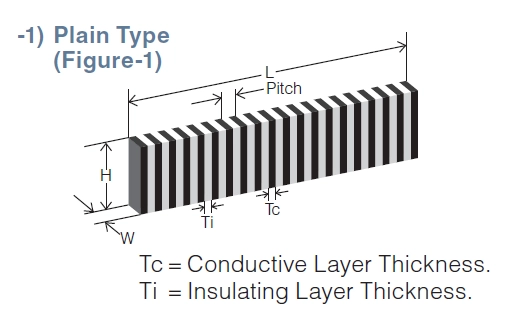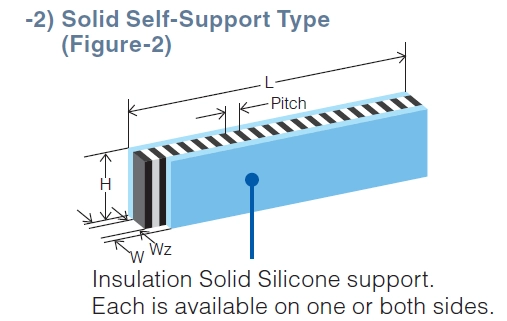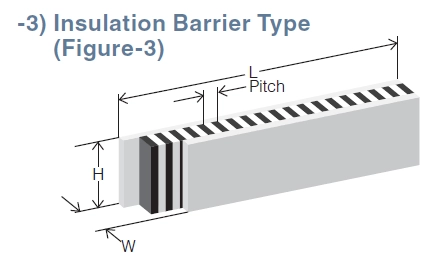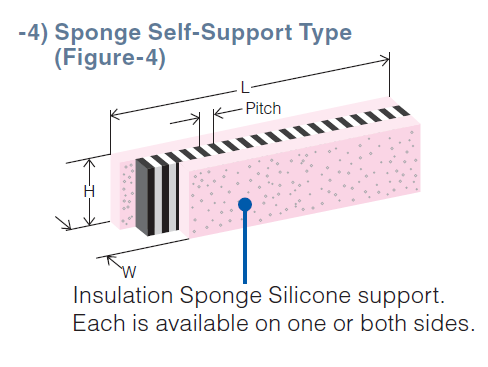 RESISTANCE –
To calculate the resistance of ZEBRA connectors, choose one of the following formulas:
For Carbon ZEBRA
For Silver ZEBRA
Where:
W = Width of ZEBRA®
Ew = Electrode pad width
H = Height of ZEBRA®
Metric:
R =
60 x H
Inches:
R =
2.37 x H
Metric:
R=
H x 0.01
+0.1
Inches:
R =
H x 0.0004
+0.1
Ew x W
Ew x W
W x Ew
W x Ew
Typical Performance Characteristics:
Side Support or Insulation Barrier: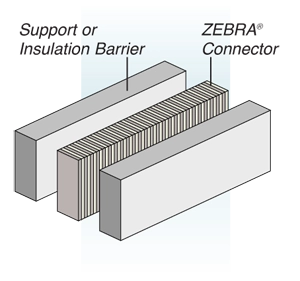 Drawing on the left shows side support or insulation on one or both sides, or one of each. Various materials are available from the minimum insulating barrier of 0.05mm to support layers of up to 1.5mm. Support layers can be soft silicone rubber, or medium and soft silicone sponge. Recommended height is twice the width for minimum force deflection.
Part Number and Nomenclature:
To specify a connector to your exact requirements, substitute the metric measurements for width, length and height according to instructions below; example part# Ag(2.0 IB1 x 20 x 2.0)-U;

---